The Board Game Geek Gen Con Preview recently went up. I've brought it upon myself in years past to sift through this preview and give what I think are the highlights for those making their way to Indianapolis. When I've done this before, I've tried to give some time for the BGG list to fully populate. I give companies all the time they need to make their announcements and let things settle before I break down the games that have caught my eye. However, this is Gen Con's 50th year, and companies are bringing their a-game, as it were. There are so many games worth checking out, that I had a hard time limiting myself. Publishers' marketing teams, as well as board game content creators, are doing such a good job of getting info out there, that if I didn't just cut my list off where it currently is, it'll become unwieldy. It wouldn't be 'highlights' anymore.
Before I get to the list, here are the ground rules:
–This list is entirely subjective. These are the games that have my attention. Sorry if your most anticipated game may or may not be in it.
–This list is basically the BGG preview in highlight form. If it isn't on that list, I didn't consider it for this one.
–I didn't include expansions or straight reprints for consideration. You already know if you'll want that or not because you'll already have that game.
–I'm only including games that are at least reported to be available for sale at Gen Con. Games listed as Demo-Only didn't make it.
–To keep it simple, I just have the game highlights and honorable mentions this year. Honorable mentions going to games  I'm either not sure of or are demo only.
If there's a game that you are excited about isn't here – leave it in the comments with a link to the BGG listing. I'm sure more titles will be added to the list, and there are always games that fly under the radar until folks actually get to the event and try them out.
That said – here is my list alphabetical by publisher…
Games I'm excited about:
AEG-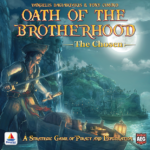 Oath of the Brotherhood – Pirate worker placement game with exploration and deck building elements as you recruit new followers, explore new actions, and get in each other's way. I'm almost always up for a pirate themed game, and I like the way they are using worker placement in this title to expand the experience rather than just to choose from set actions like your Agricola-like games.
Big Potato Games –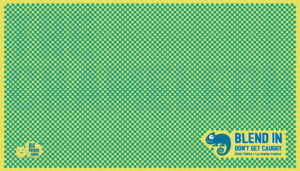 Chameleon – part Spyfall, part word game. Players try to discover who among them is the chameleon by saying words that relate to a secret word without giving away what that word is. This style of game is always a hit at our events, and people who have never played a tabletop game in their life can jump in on them. I like the word game element of it, and can see how this would lead to a lot of laughs around the table.
Blue Orange Games –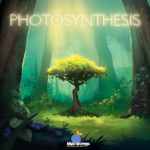 Photosynthesis – plant 3D trees to try and maximize the amount of light that you can while keeping other players in the shade. Absolutely gorgeous artwork with an amazing table presence. The components grabbed me on this one, but the game play seems to be in my wheelhouse of simple to grasp on the base level, but complex in advanced play. Where to plant trees so that they can grow and get you points vs where they can literally throw shade at your opponents is interesting.
Brotherwise Games–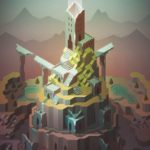 Unearth – This isn't the only dice placement/dice manipulation title on my list. Now maybe that's because Castles of Burgundy is a favorite in the Perna household, but I really enjoy that mixture of luck and strategy. Unearth also provides multiple pathways to victory where diggers can explore vast ruins or build great wonders. Level of play on this one seems to be accessible to players of all skill levels, and seems close enough to some games I know people love while adding great artwork and unique elements.
Czech Games Edition-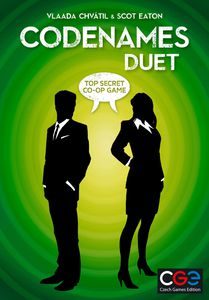 Codenames Duet – two player version of Codenames where players work together instead of competing. When this got announced, I was initially skeptical. I couldn't see how they could possibly make this big-group party game a two player experience. However, utilizing dual sided agent cards that hide information from both players while still providing some overlapping agents – they might have done it. There are also a number of new lose conditions that up the challenge, including limited rounds, max number of revealed bystanders, and increased number of assassins.
Fantasy Flight –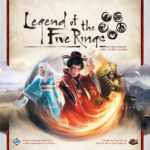 Legend of the Five Rings LCG –  an LCG in the world of L5R. For many of us who have spent long nights exploring the world of Rokugan, that's all we needed to hear. It's hard for me to justify adding another living card game into my life (or budget), but that would literally be my only limitation that keeps me from getting at least the base set of this title. The idea of seeing fights among the clans while fighting off the various evil forces of the land translated into an LCG form makes me very happy. I'd love to bring a Crane Clan deck to the table.
Pandasaurs Games –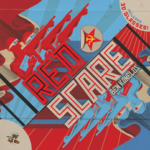 Red Scare – A social deduction game with "red lens technology" like what I remember in games when I was a kid. I love the idea that even those people who are trying to root out the enemies of the state have their own things to hide. The artwork is great, evoking a propaganda poster like style to the board and a stylized comic feel to the cards. The theme, and inclusion of 3D glasses, hits home for this child of the 80s. And, again – they had me at red lens.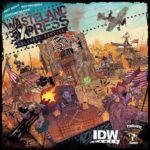 Wasteland Express Delivery Service– I go back and forth on post-apocalypse games. There are some that have the theme just pasted on like someone said "It's the new zombies. We gotta do it." Yet, also like zombies, people can take a theme that is trending and still make a unique, engaging experience. The choice to make a pick-up-and-deliver style game in which you are bringing the resources that sparse settlements need to survive in a harsh world makes Wasteland Express the latter in my mind.
Portal Games: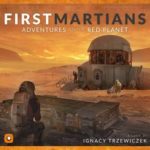 First Martians – Robinson Crusoe in space. I could end there, but I won't. As rough as it is to survive on a deserted island, I can't imagine what players will deal with on Mars. I've been watching some of the dev blogs, videos, and pictures that Ignacy and the Portal team have been putting out about this one. Everything from the big, gorgeous looking board to the fact that players can choose to have actions taken affect future games make me want to get this one to table.
Renegade Games:

Sentient – Before Origins, I'd heard nothing about this game. But after countless friends and folks whose opinions I greatly respect started sending out videos and pictures of how excited they were for this one, it sent a fellow to researching. I love games where you can combine luck with strategic card play. So being able to play cards to change dice to the left and right of the card – using "assistants" to cover actions you don't want to do on the cards – makes me excited to try this one out. (technically folks could pick this up at Origins, but it's listed in the Gen Con preview, so that's why it's still in here).
Restoration Games: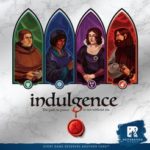 Indulgence – I love the entire concept of restoration games, but I had never even heard of the game that would later become Indulgence. Not only does the church history style theme get me, but the description of the game play excites me about this one. The idea that edicts are being created to establish what you can and can't do, and that each player has to make the decision as to whether or not they will abide by that decree, seems like it'll make for really interesting experiences. You never know – this one might just get the InnRoads Approved seal under the "church history" banner if it uses that theme in ways I think it could and plays as well as I hope. Only time will tell.
Honorable mention:
Moa (ape games)– cool area control game inspired by the events that lead to settlement of New Zealand where players  choose to defend or  even sell their lands to those settlers from afar. Demo only

Bemused (Devious Weasel Games) – The theme of muses inspiring artists is cool. The social deduction without being a "social deduction game" sounds interesting. Just not sure about how it all comes together.
Professor Evil and the Citadel of Time (Fun Forge) – I like the idea of an NPC moving about the board in a way that is not necessarily logical. He is, after all, a mad scientist. I just don't know about how it plays until I get my hands on it.
Barker's Row (Overworld Games) – It's obvious I'm looking forward to Barker's Row. The only reason this one doesn't make the list is because it's demo only.
Flick 'Em Up: Dead of Winter (Pretzel Games) – I like Flick 'Em Up. I like Dead of Winter. But I'm not sure if this isn't literally just Flick 'Em Up with some new set pieces. Curious to see how things change with this edition.
Ex Libris (Renegade Games) – I have no idea what this looks like. If a preview video comes out showing me before it hits Gen Con, it very well might make it to the list proper. But regardless of what the game looks like – gnomish librarians trying to make theirs the best library in the city has my attention.

Is there a game you think I missed? Be sure to leave it a comment, and if you can add the BGG link for the game, that will help everybody discover it too.