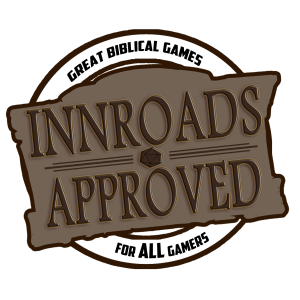 You may have seen Christian board games before. Many of them are "Bible editions" of games you've already played before like Bibleopoly, Bible Scrabble, or Bible Apples to Apples just to name a few. Others are often some variation of Bible trivia. These games are well and good for the purpose for which they were designed. However, as an organization that promotes gaming as ministry and games themselves as a means of building relationships across all boundaries, these games fail to hit the mark. Bible versions of other games often lead people to ask, "Why don't we just play the original version?" Likewise, Bible trivia with people who may have never even cracked a Bible before is a non-starter.
There are games on the market, though, that provide a great gaming experience set within a biblical theme. These games weave Bible texts, church history, and a passion for games together in a form that is engaging to gamers who are Christian or not. We created the 'InnRoads Approved' seal for these games.
When selecting titles for this distinction, we look for games that demonstrate the following criteria:
The theme involves the biblical text, church history, and/or Christian spirituality in a way that encourages players to interact with it through the experience of playing rather than AS the game play itself.

The game's design and play do not require thorough knowledge of the Bible or any aspect of Christian faith in order to be engaging to the players.

While the game may have similarities to other games on the market in form or implementation, there is an aspect of design and/or play that sets it as a distinctly unique experience from those titles.

The game has been played by one ore more members of the InnRoads Ministries board and has demonstrated that the title is an exceptional representation of its game style.
Games that received this distinction, in no particular order, are:
Kings of Israel –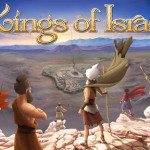 Kings of Israel by Funhill Games is set in an Old Testament time frame where each player is a prophet attempting to remove sin from the land of Israel by tearing down idols and establishing altars in key locations. While gamers familiar with the game Pandemic will be familiar with the mechanisms of the game, KoI implements unique aspects like Foretold Event cards that impact future turns, blessings that provide either powerful one-time events or add new abilities to the player, and more.
Listen to our interview with designer Lance Hill HERE
Commissioned –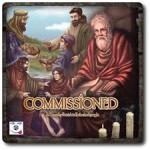 Commissioned by Chara Games sees the players taking on rolls of the Apostles as they try to spread the gospel and grow the early Church. They have to balance developing their unique characters, growing the Church, and collecting the texts that would become the Bible we know today. The theme, based on the historical expansion of the Church, provides an approachable and interesting perspective for all gamers to enjoy.
Listen to our interview with designer Patrick Lysaght HERE
A Game For Good Christians –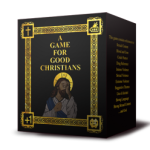 A Game for Good Christians is a self-published title that straddles the line for our third qualification. Even the game's designers described the gameplay of this title as "Cards Against Humanity from the Bible" in our interview. However, the key distinctive for this title is the intention of the game and the means of interaction with the biblical narrative. While the text of the cards themselves may be irreverent, they are derived from a thorough study of the text in its context and original language, organically encouraging interaction with even the most difficult passages.
NOTE: the designers have developed a "theology of swearing" based on the original language of the texts. It does contain strong language and may not fit all contexts. This should be considered when thinking about buying this title.
Listen to our interview with the game's designers HERE
Unauthorized –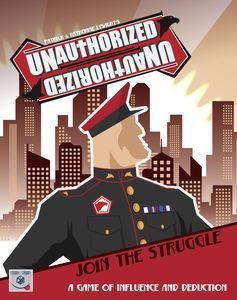 Unauthorized is another game from our friends at Chara Games. The mechanics of this title are significantly lighter than their previous entry to the list, but that doesn't mean that the theme can't hit a powerful chord. Unauthorized is a light game that lasts four rounds where the players play cards in front of them and use unique character abilities to manipulate what others have played in an effort to bring people to their side of the game. If the majority of the cards in play and in their hand are green, they are a part of the underground church in a place where it is illegal to do so. If the majority of their cards are red, then they have sided with the state, and are trying to root out the other side. While the cards don't have any powers or unique actions on them, the real-life circumstances that would influence how open to hearing about God have an ability to evoke emotional responses that you wouldn't expect in a game of this weight – when you see a card with a meeple wearing a cross is looming ominously over a smaller meeple and the words "Abusive Church Leadership" on a card that turns people away from God, you are forced to interact with hard realities while laughing over passing cards.
Listen to our interview with designer Pat Lysaght HERE
Indulgence –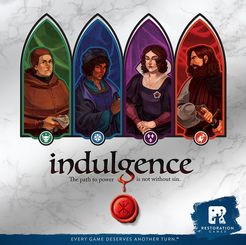 Indulgence from Restoration Games is a trick-taking game where each player gets opportunities to play as the ruler – choosing a rule from a selection of three that will benefit them and hurt the other players. An example would be that a player with no cards in the Sforza suit, a rule that says "you must not take any Sforza cards" will be a huge benefit – as the likelihood that your opponents will break that rule and be forced to pay you is high. When this game was first announced, I was skeptical that a trick-taking game could have a strong theme. But after playing a number of games of it, and watching even more, I am here to tell you that this theme is solidly implemented in this game – and a most insidious theme it is. The Church had found a way to fund its campaigns by telling people they could pay to lower the amount of time they had to spend in purgatory for their sins, and for some reason – they found that prominent sins carried with them a powerful cost. This whole period was a giant black eye in the history of the Church, and a policy that was fundamentally against what Christ taught. This game is a source of a lot of fun and laughter, while also providing an opportunity to interact with the nature of preaching against sin when it's not so much about introducing folks to who God is as much as it's an opportunity to beat down and feel superior to those who commit them. I do not hesitate to tell you that this is my current favorite trick-taking game.
If you have a favorite game that you feel deserves the InnRoads Approved seal but isn't listed, it could be simply that we have not played it. Leave a comment or send us an email to contact@innroadsministries.com