November is here again, and at InnRoads that means another year that we have been about the business of helping churches create welcoming environments to share the Gospel and build meaningful relationships.
This year, we've decided to commemorate this occasion with a contest. Whether you use them to move bits around a board or determine whether your character is successful in their grand adventures – one consistent element to the gaming experience is dice. Not just the dice themselves, mind you, but the fact that at one point or another we've felt 'robbed' by dice that consistently roll poor numbers. But what if I told you that there were dice engineered to be the most random, most precise dice in existence, giving you the most statistically random results a die can give?
Enter Gamescience dice. Daniel Fisher, InnRoads Ministries' resident dice expert, explains what makes these dice so good:
Gamescience dice are uniformly shaped within thousandths of an inch tolerance. This allows for a center of gravity that is in the center of the die. This will give you a better probability of rolling a random number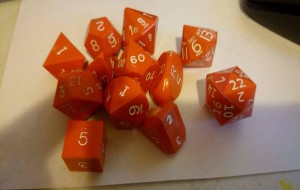 We're giving away a complete orange 12 dice set. This includes the standard seven polyhedral game dice and more (d3, d4, d5, d6, d8, d10, d10%, d12, d14, d16, d20, and d24). This set is inked and is about a $50 value. Whether you are an avid role player in need of a new set of dice, a board gamer who wants that perfectly die to give the best game experience, or your a collector interested in a set of dice with the more unusual numbers for sides – these dice are for you.
We want to make sure somebody gets to enjoy these dice, so we've made sure to make it simple. There are just two things you need to do in order to be entered in the contest:
Join our Board Game Geek Guild
Comment on the contest thread saying what game(s) you look forward to playing with your gamescience dice.
On November 30th, we'll randomly select one winner from the valid entries and will send your dice out shortly after that.
So hop over to our BGG guild, comment on the thread, and be sure to let people know about the contest for their chance to win..