Now that we have passed Origins, and some are still dealing with the inevitable con-crud and exhaustion that comes from returning to the real world, it's time to start talking about the next big event for gaming releases – Gen Con. Every board gaming media personality worth their salt will be weighing in on what games they think will be worth checking out at the largest gaming convention in the country if not the world (in case those numbers are still being debated).  While we aren't necessarily reviewers around here, we try to surround ourselves with what's going on in the gaming world. As such, we have opinions on these things, and I am no exception to this. It's quite possible that your must-have games didn't make the list, so be sure to add them in the comments and share why you're excited about them.
The following is my list of games to look for broken down into three categories (with a special call out for expansions at the end):
Games I'm Excited for – Games that would be in my bag without question if it weren't for the fact that I have no money and won't be at Gen Con this year
Games I'm Curious About – Games that sound or look interesting to me, but I'm not sure if the game play will back up that interest without trying it first.
Games I Know Little About – With so many games coming out, it's impossible to know EVERYTHING. These games either don't have enough information out there yet for me to form my full opinion, or I literally just heard about by skimming the BGG Gen Con preview list.
I'll be expanding on why I think games look amazing for "Excited For" list, but there are so many of these that the other two breakdowns I'll have to leave you to look up on the list yourself and form your own opinion (all titles listed alphabetically by publisher):
Games I'm Excited For: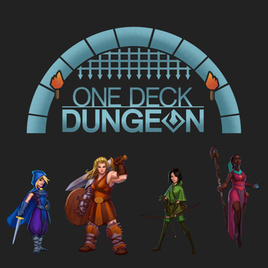 —One Deck Dungeon – Asmadi Games 
I love the whole idea of this little game from Asmadi. I love that it's incredibly replayable because you deal out the monsters, traps, and treasures to delve into a different dungeon every time. I love the push your luck aspect that makes for a one player option that is actually a viable one player option. And I'm a fan of the artistic choice that all the characters are kick-butt ladies, as I know a number of women who would be excited to connect with characters that are outside of the 'dudes in a dungeon' trope.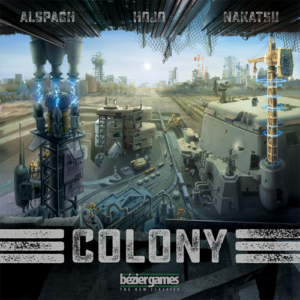 —Colony – Bezier Games 
If you've heard me talk about Ashes, then you know that I'm fascinated by the "dice as resource" concept. This game takes that idea and uses it to build a fledgling colony. You're trying to collect resources, only some of which are stable enough to be stored between turns, and use them to construct an assortment of buildings which will give you new abilities. A bit of engine building and resource management with dice resources? I'm in.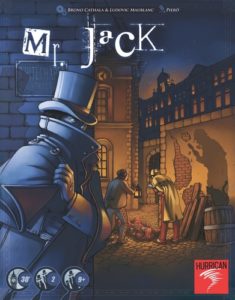 —Mr. Jack (10th anniversary edition) – Hurrican games
Mr. Jack has been around for a while, spawning a pocket edition and inspiring the game play for other titles. The game is a well loved two player game where one person plays the detectives trying to discover the identity of Jack the Ripper, while the other plays Jack. The new edition puts out new artwork and a modified board. If, like me, you don't already have the original version, it's well worth a pick up.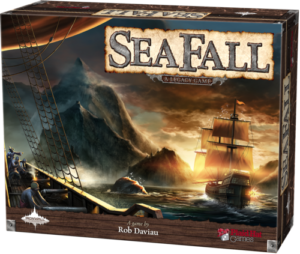 –Seafall – Plaid Hat Games
The first in my "if you've listened to our podcast any time in the last few months, you know why it's here" list. Seafall is a legacy style game where you're discovering islands, gathering resources, and trying to be the best pirate captain of all. I've been following the dev diaries of this game for the past three years, so to say that I'm excited about this game's arrival would be an understatement. Everything about it looks fantastic.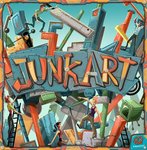 –Junk Art – Pretzel Games
This is a stacking game where players have to create structures using a collection of odd shaped pieces, but that's really just one of the options. Pretzel Games says there are ten different game modes in this one box providing different experiences with each using all the same materials. This game is a dexterity game, with a variety of play, with elements of creativity and some fast paced action (depending on the mode). I think this one would be a great addition to any library because it's possible to modify the game experience to fit different styles of gamer.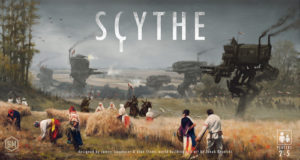 —Scythe – Stonemaier Games
Scythe is the other title on that aforementioned list. By now you're probably sick of hearing me talk about mechs, area control, and resource production across a 1920s eastern European setting. I love that each faction is unique, each player board providing strengths and timing options that mean your needs and strategies might change depending on who you are playing as. While there are times I love a good bit of randomness, but when it comes to sprawling strategy like this, I love that there isn't any. Hidden goals, cool miniatures, and a russian bear! This game has been on my watch list since it was first announced.
The Dragon & Flagon – Stronghold Games
This game became a 'must buy' for me on a number of levels. 1) It's designed by Geoff Engelstein, 2) It's components make this game a 3D experience with huge table presence, and 3) It's about a tavern brawl where mugs are thrown and chairs are smacked across the backs of your opponents. As I said on twitter a while back, we're INNRoads, and our community is The TAVERN. How could I not own this? Everything I've seen about this game looks like a great time. And I hear there's a release party this year. If you're going, check it out.
Games I'm Curious About:
The Goonies Adventure Card Game – Albino Dragon
Chronicles 1: Origins – Artana Games
Attack on Titan deck builder – Cryptozoic
The Networks – Formal Ferret Games
Bring Your Own Book – Gamewright
Karuba – Haba Games
Vast: The Crystal Caverns – Leder Games
In the Name of Odin – NSKN Games
Cry Havoc – Portal Games
City of Spies: Estoril 1943 – Stronghold Games
Beyond Baker Street – Z-Man Games
Games I Know Little About:
The King's Abbey – Breaking Games
Princess Bride: I Hate to Kill You – Game Salute
Imagine – Gamewright
Grimslingers – Greenbriar Games
London Dread – Grey Fox Games
Expansions:
New Ashes Phoenixborns
Cash N' Guns Team Spirit
Specters of Nevermore