At the beginning of the year, the InnRoads board sat down to talk about how we could be more efficient with our convention efforts. The consensus was that as great as they are, larger events are either too expensive or don't really lend themselves to our sort of ministry. We want to get to tables and game with folks, building relationships and getting to know them as they get to know us. The decision to focus more energy on smaller, local events is allowing us to participate in a lot more of them.
Some of the following events are tentative – but we're currently in the process of making all of these happen. We're hoping that anyone who is able to will come out to meet some of the crew, play some games, and even come with us as part of the team.
Without further ado – here are some dates you may want to put on your calendar:
GameChurch Academy East – June 2nd-4th
Oddly enough, the next event on our calendar isn't actually ours. Our friends at GameChurch have been running a conference called The Academy for the past two years out of their headquarters in Ventura, California. However, as the ministry's grown, so has the number of people outside of the west coast that wanted in on three days of gaming and speakers talking about doing ministry in the gaming community. That lead them to create Academy East – which will be in Whippany, NJ June 2nd through the 4th.
At a cost of only $100 that covers hotel room AND registration for the event, it's a great value. I've been asked to be one of the speakers at this event. I'll be talking about what we do at InnRoads and the value of what I call "incarnational gaming," aka the value of being present in the same space and time with those you're playing.
If you are interested in attending this one, you can go to the Academy website and register.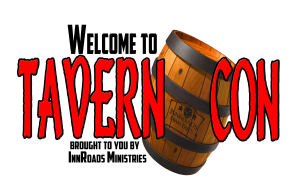 Tavern Con – June 10th
This will be the third year that we are endeavoring to put on Tavern Con – our primary fundraising event to help us cover the costs of running InnRoads throughout the year. The event features ten hours of open gaming with the entirety of the InnRoads Traveling Game Library, a raffle full of opportunities to bring home great games donated by companies and regulars, special guests from around the gaming hobby, and a ton of amazing food. We also have events like the Pretense Meta-tournament ,where you can win titles from Button Shy Games, and large scale group games of Two Rooms & a Boom.
We are still awaiting confirmation from some potential guests, but this year we'll definitely have folks from The Bodhana Group on hand to talk about how they use tabletop games in clinical counseling situations & aid in personal development.
Dex Con 20 – July 8th-9th
After a successful trip to Dreamation in February – another event put on by the same company – we are hoping to get a team together that can run a table and lead games at Dreamation in this July.
While the event is scheduled the fifth through the ninth, in all likelihood we'll only be able to be there that Saturday and Sunday. That might change depending on how successful we are at recruiting volunteers. A Sunday morning faith based gathering is also on the table if we can get a large enough team together – as the event's organizers have asked us if we'd be interested in putting something like that on. If you are interested in participating and can get to Morristown, NJ this July, contact me ASAP.
Save Against Fear – October 13th-15th
We love what the Bodhana Group does with games. They are a great team of folks dedicated to using games to help people by using their expertise to apply games and game theory in clinical situations. Every year they throw a huge event out in Harrisburg, PA to raise support for the work that they do. It's three days of tabletop gaming in all its forms. We've been invited to run an InnRoads table at this year's event, and I'm hoping that we'll be able to get out there. If you'd like to help be a part of the Save team, let me know.
This is just a partial list. We're putting together teams to go to events like South Jersey Geekfest, special events in honor of International Tabletop Day, and more. However, this should give you some dates to look forward to. We certainly hope to see you there.
If you can't attend these events, but would like to help support those of us who are – you can click on the donations button on the menu. If you'd like to donate copies of games (or know somebody who would), donated games can be sent to our PO Box address on our contact page.