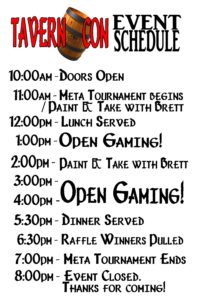 We are three weeks away from this year's Tavern Con! This is our annual fundraiser where we gather for ten hours of open gaming to raise a portion of the money we use the rest of the year to run game days, keep the site running, go to conventions, and everything else we do. This year's event is happening JUNE 10TH from 10 am to 8 pm at Stonecrest Community Church in Warren, NJ. This is our third Tavern Con, and the event is still growing. Before I break down all the goodness you can expect at this year's event – let me break down a few frequently asked questions that we get every year.
Where is the church located?
11 Technology Drive North
Warren, NJ 07059
(then just follow the Tavern Con signs)
Is there an age limit/minimum?
NO! We have a growing number of games specifically for younger players, and our events are always family-friendly affairs, so there is no age minimum (though there is no childcare provided). At the same time, this is not a youth-centered event. Games do amazing things when you have people from different stages of life playing and talking together.
What if I don't have a lot of money? 
The event itself is no cost for entry. While this is a fundraiser, with certain aspects of the event having an attached cost, we want to make sure that everybody that wants to has a chance to get to the table and play. And if you are a person who doesn't like carrying cash with them, we are able to accept credit and debit cards.
What if I don't know how to play any of the games? 
We have a group of volunteers on hand that love games and have played most if not all of the games in the InnRoads Traveling Library. They are happy to help make game recommendations and walk you through the rules of games you're interested in.
Now for some reasons you should put Tavern Con on your calendar…
The Traveling Library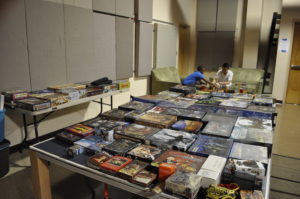 While we've added a number of things you can enjoy at Tavern Con over the years, open gaming is still the heart of the event. The InnRoads Traveling Library is our collection of over 100 board and card games that are readily available for play at the event. From Win, Lose, or Banana to Eclipse – from solo games to 30+ player party games, we are confident that there is a game in our collection that you'll love. You are also welcome to bring your own games with you, as we are always up for learning new games.
You are also welcome to bring your own games with you, as we are always up for learning new games.
Food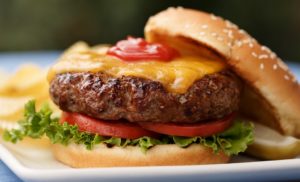 You can't very well play games for ten hours on an empty stomach, or at least we wouldn't recommend it. Not only will we have game day standard snacks available for you, but we'll also be offering lunch and dinner options, as well as some sweet, baked goodness. While snacks and drinks are available for all, the two meals and the baked goods come at a cost. A mere $5 meal ticket will get you both lunch and dinner options. We'd challenge you to find a better deal for your money.
The sweet dessert options will include treats like brownies, cookies, and cupcakes. Each piece will be around $1 (some might be more depending on the size).
The Pretense Meta-Tournament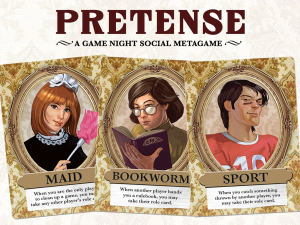 Pretense, a card game designed by Jason Tagmire, is a game that is played while you're playing other games. Where better to enjoy this such an experience than a day full of going from game to game? But wait, there's more! What if you could play this game day metagame and win prizes for doing so? All this could be yours if you win the Pretense Meta-tournament. The tournament will start at 11 AM, wherein any players can pay the $5 entry fee and be assigned a role card for the event. You can find a list of the rules for the event posted at Tavern Con, but you can take a look at them here to acquaint yourself with the various possible role cards so you'll know what to look for. Players will be able to enter the tournament at any time, provided there are still available role cards that have not been claimed, and players can obtain new role cards after elimination with an additional $5 entry fee.
The game's designer will be at Tavern Con, and Button Shy is also providing a prize from their games library for the winner.
PRIZES!
Every year we gather a pile of prizes to give out. These are games and gaming supplies that will get you back to the table long after the event is over. This year is no exception. This year we'll be including a "How Many Meeples?" contest where folks can guess how many meeples are inside a jar for the chance to win a set of metal dice, campaign coins, and pins donated by the folks at Norse Foundry. The bad news is that there will only be one winner to receive the whole Norse Foundry prize pack. The good news is that this one is open to everybody, even if you spent all your extra cash on those tasty, tasty cupcakes.
For those who are feeling lucky, we also offer the game raffle. This has seen some variation over the past two years, as we've tried to get the winners the most – for lack of better phrase – bang for their buck. This year, the raffle looks like throwing in as many tickets as you can get your hands on into the same prize pool for a chance at a number of prizes. These include games from Haba, Peaceable Kingdom, Calilli Games, Red Raven Games, Chara Games, and more. The prize pool is still potentially growing right up until the doors open, so you may want to plan ahead to budget money for those tickets. You can buy tickets for $2 each, or $5 for 3 tickets. The more tickets you throw into the pool, the more likely it'll be for you to walk home with a pile of great games.
Paint & Take
A new element to this year's event is a Paint & Take. If you've been to larger conventions, you may have seen similar events on the schedule. It really is as simple as the name sounds. With the rise of games that are filled with miniatures, you may have thought about learning how to paint all that gorgeous plastic. Daniel's painting series here on our site is a great start – but nothing beats hands-on experience with someone who knows what they're doing. For a measly $5, you can be a part of one of two paint and take events we have available at Tavern Con this year where the talented Brett Anderson will be on hand to teach you how to paint a miniature from the folks at Reaper Miniatures that you'll be able to take home after the event. Brett will also have some of his own paint projects on hand to show you some of his work and how he uses the processes he teaches you. If you haven't ever played a game with fully painted minis before – maybe get in a game of Blood Rage before one of the Paint & Takes and see Brett's handiwork with your own eyes.
Supplies are limited for the Paint and Take events. So if you want to ensure that you'll have a spot, be sure to leave a comment here or email us at contact@innroadsministries.com with the subject line "Paint & Take."
Special Guests
We'll have two special guests on hand at this year's event.
As mentioned earlier, Jason Tagmire of Button Shy Games will be on hand for part of the event. Jason will have a bunch of games from the Button Shy catalog on hand for purchase – and, if his previous Tavern Con appearance is any indication, he'll probably have some prototypes pre-release copies available for folks to preview and playtest. We'll have a number of Button Shy Games available to play in the Traveling Library, and Jason will be available to walk you through the gameplay of titles he has on hand if you're interested.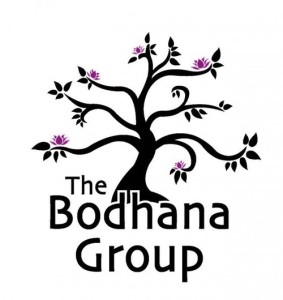 The Bodhana Group came out to last year's Tavern Con and will be back in force this year. The Bodhana Group is an organization that uses board, card and tabletop role-playing games in clinical, therapeutic situations. They create programs that demonstrate how not only can playing games develop tangible skills – math, reading, etc – as well as promote other social and emotional skills and therapeutic applications. For more information, you can view their site or check out a recent Kotaku article that featured them.
Not able to make the event but want to help support the ministry? You can go over to our donations page and make a donation. InnRoads Ministries is a registered 501(c)3 nonprofit organization. Events like this and the support of folks like you are how we are able to spend the rest of the year creating game days with and for churches and community groups to help them make a positive impact on their communities and demonstrate what the love of God looks like with anyone who comes to the table.