InnRoads Ministries is growing. As such, we are constantly exploring new options and developing on an individual and organizational level. Our ministry currently functions in the following capacities:
Internet Presence

:
We have developed an ever-growing collection of content on our website (innroadsministries.com).
Articles:
Our articles, gathered from a collection of contributors across multiple denominational backgrounds, fall within the following categories:
Getting Started – tips for learning how to get into the gaming hobby and learning what the world of gaming culture has to offer
Theology of Play – reflections on what game mechanics, themes, and even the act of gaming itself shows us about life and faith
The Abbey – this category is about the difference between gaming as a hobby and gaming as a ministry. They feature targeted articles in a church or small group context.
News and events – Helping our readers keep up to date on major events that InnRoads – example: Our annual participation in the Extra Life charity campaign to raise money for local childrens hospitals
Podcasts: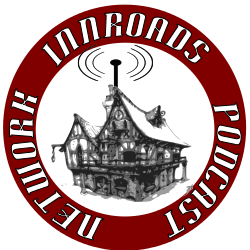 Our flagship show is a bi-weekly podcast discussing the intersection of faith and the gaming hobby called Game Store Prophets (over 100 hours of content to date). We have also partnered with another podcast called Saving the Game, and we recently unveiled our new storytelling/RPG plot seed podcast called The MacGuffin Factory. This particular aspect of the ministry has connected with gamers across the world. We hope to continue to bring in quality content covering the convergence of faith and tabletop gaming.
The Tavern: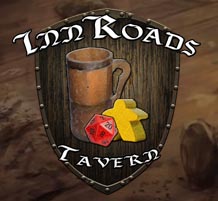 The Tavern is our facebook community. It is a growing collection of folks from all over the globe who like to share stories, talk about games, and encourage one another. The Tavern got its name, not only to continue the 'Inn' theme, but because we feel it is the perfect expression of the group's place in the ministry. Our door is always open, and everyone can pull up a seat. It doesn't matter where you've been, what you've done, or who you are. When you come to the Tavern, you're welcome, and everyone's a regular. Not on facebook? Not a problem. The Regulars community also extends to our Board Game Geek guild. Not only can the geek give you all the information you need about your games – you can connect with other regulars, ask questions, and more.
Youtube: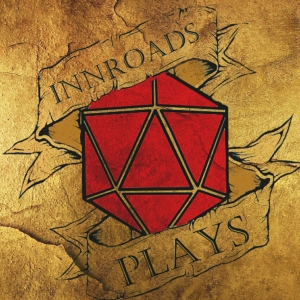 We're creating a stream of new content for our youtube channel. This included demonstrations of various tabletop role playing games, vlogs with our team members, "let's play" videos of video game content, promotional videos, etc. As we become available to devote more time to the ministry – we hope to increase the quantity, variety, and quality of this video content.
One-Time Gaming Events

:
Charity Events: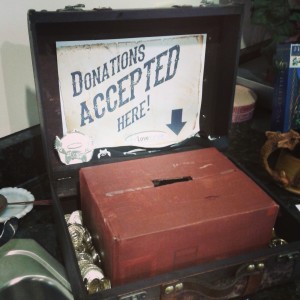 We believe that the gaming hobby has one of the greatest communities in the world today. It is filled with people who want to help those who are not as fortunate than themselves. They want to show them the power of play in their lives – and they want to do it by harnessing the games they love so much. We put together all-day gaming events where we collect donations either through participation in global giving initiatives like Extra Life, or by partnering up with local charity organizations such as Love True directly.
Outreach: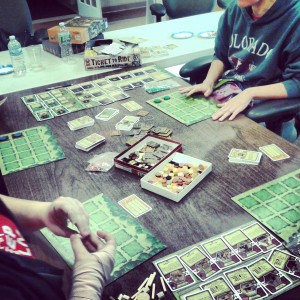 We believe in the power of games to bring people together. Our outreach events are designed to provide an environment for church and community leaders where they can make deep connections with the people in their area through the gaming table. We provide the games, as well as volunteers who are able to teach and facilitate those games, and spend the day playing together and and building relationships. While it is our strict policy to have no formal message, and while our volunteers are instructed not to go out of the way to turn a conversation to topics like 'church' or God – those conversations happen. They happen from the natural discourse of getting to really know the people sitting across a game board.
Game Group Ministry:
We are in the process of developing a series of training materials to help churches utilize games and gaming groups as part of their long-lasting ministry. We are working to take the techniques we use for our own one-time events and use them to create environments where people from within the church grow together and those outside the church can be shown the love of God and the power of the Gospel message through meaningful, long-lasting friendships. This aspect of the ministry is still being developed, but as we start gathering funds and are able to devote more time and resources to the ministry, we hope that this becomes the bulk of our activity.
Conventions/Retreats: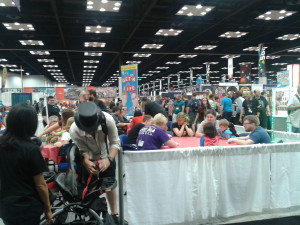 We love talking to people about what we do. We love bringing the game library out on the roads and reminding people of the wonderful experience of playing together. Whether it has been trucking the game library to a retreat center in upstate New York to talk to a room of twenty college students or working a booth at Gencon – the country's largest annual tabletop gaming convention that boasted an attendance of 56,000 people in 2014, if you give us a chance to talk about the place of games in life and ministry – we'd love to be there.